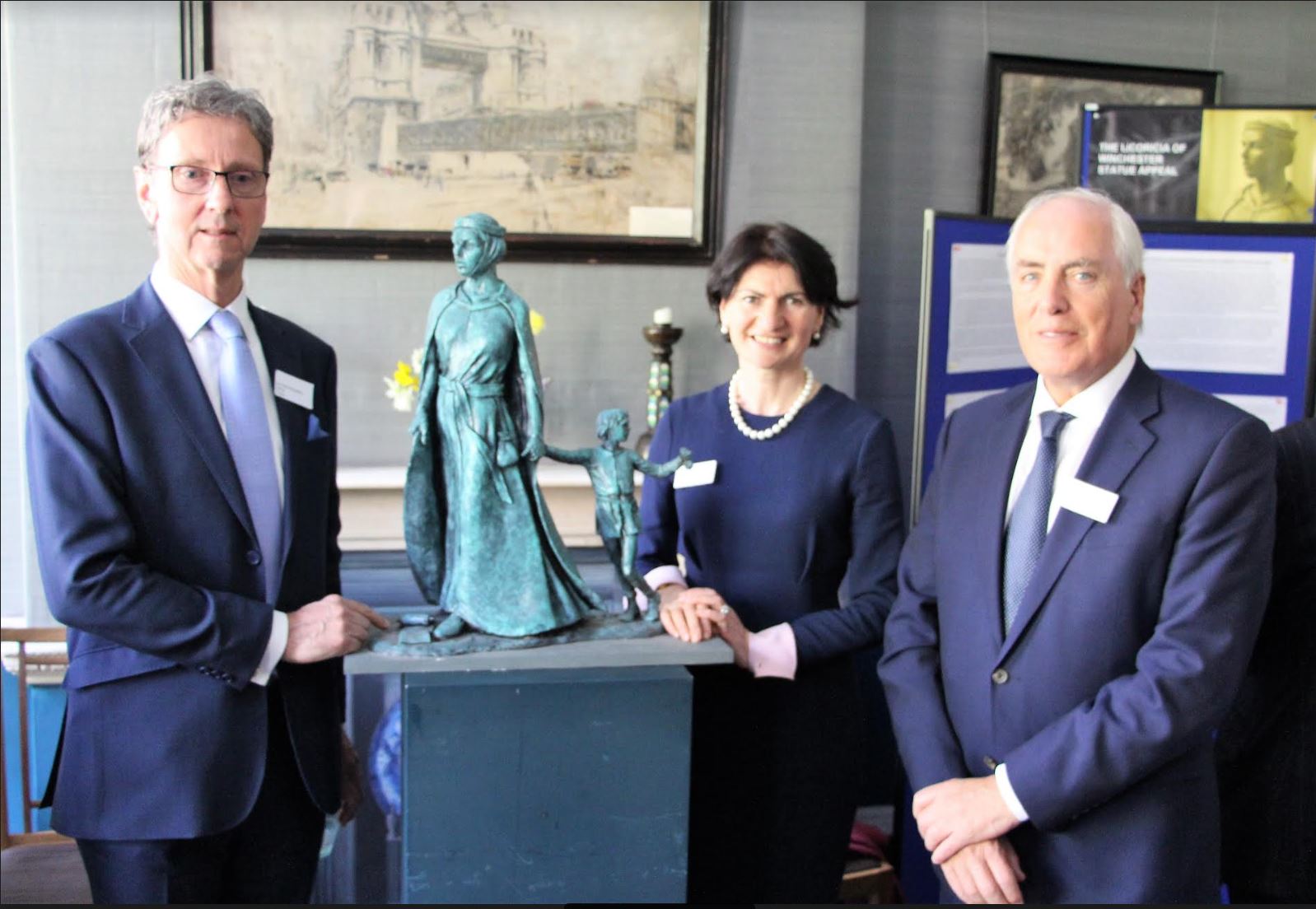 Back to search results
JEWISH MEDIEVAL BUSINESSWOMAN TO BE CELEBRATED WITH WINCHESTER STATUE
Date: 20/04/2019
Licoricia of Winchester was an outstanding Jewish medieval businesswoman. To
mark the importance of the Jewish community in historic Winchester, and the role of its women, a statue of her is to be erected in the city's Jewry Street.
Leader of Hampshire County Council, Cllr Roy Perry, unveiled the maquette of the
statue, created by an internationally renowned sculptor, today at the Art Workers'Guild, 6 Queen Square, London WC1N 3AT.
The statue is of national, even international importance, and will:
 Represent an inspirational woman, and be one of the few public statues of
Jewish women in this country,
 Raise awareness of Winchester's important Jewish community, its
achievements and its persecution,
 Promote religious tolerance and the acceptance of diversity in the community,
 Educate people about Winchester's royal medieval past,
 Enhance the city of Winchester and commemorate a woman of national
significance.
Following a competition involving sculptors both local and national, the commission was won by Ian Rank-Broadley FRSS. Ian is a multi-award winning sculptor with any important commissions to his name. These include, the Armed Forces Memorial at the National Memorial Arboretum, the effigy of HM Queen used on all UK & Commonwealth coinage 1998- 2015, and a commission for a statue of Diana, Princess of Wales for TRH Duke of Cambridge and Duke of Sussex for Kensington Palace.
The unveiling of the maquette marked the full launch of the Licoricia of Winchester Statue Appeal, led by its patron Simon Sebag Montefiore, historian, television presenter and author. The event was a great success, with over sixty people attending, including leaders of the Reform and Liberal Communities, Jonathan Arkush and Gary Mond of the Board of Deputies, and with messages of support from Chief Rabbi Mirvis and the Archbishop of Canterbury. Maggie Carver, Chairman of The Licoricia of Winchester Statue Appeal, introduced Licoricia and her importance to today. William Carver summarised the fundraising effort - £125,000 needs to be raised of which £20,000
has been donated so far. Drinks and refreshments were enjoyed by all, in the
historic atmosphere of the Art Workers' Guild in Bloomsbury. The event was
covered on BBC South TV news.
Quotes:
Simon Sebag Montefiore
"The Statue will be an important link for Winchester with its royal past and medieval Jewish community, and be a beacon of religious tolerance, and diversity."
Ian Rank-Broadley
'The opportunity to create a work of sculpture to celebrate Licoricia of Winchester was one I readily undertook. The siting of the life size bronze sculpture near to the location of her historic home brings the past and the future together, it recognises the enormous contribution made by the Jewish community to English life and serves to inspire us today.
Maggie Carver
"We are absolutely delighted with the maquette and the local and national support the project has received so far. We are confident that the Statue will provide a lasting enhancement to Winchester, and an inspiration to all".
Notes
 For further information please email mail@licoricia.org.
 Details of the project are our website www.licoricia.org
 Photographs of the unveiling are available by emailing mail@licoricia.org